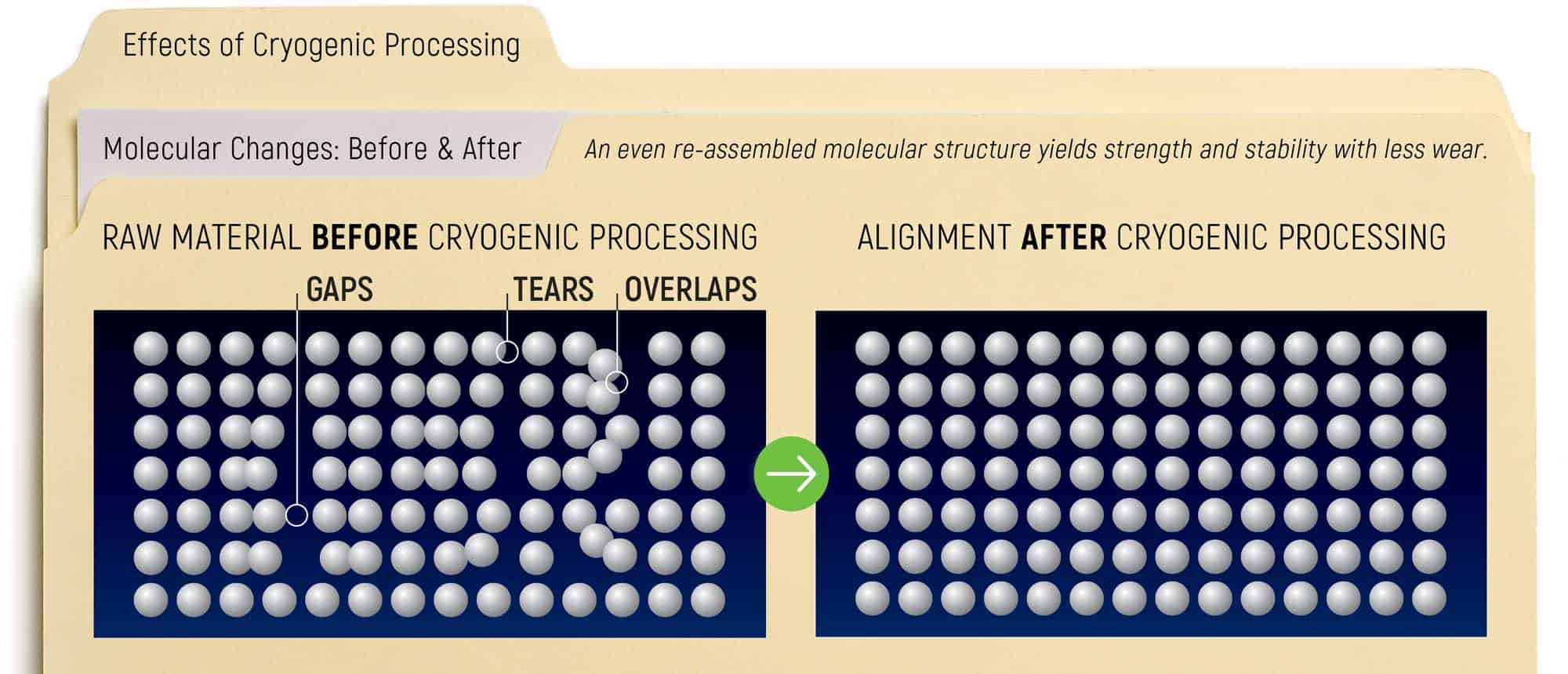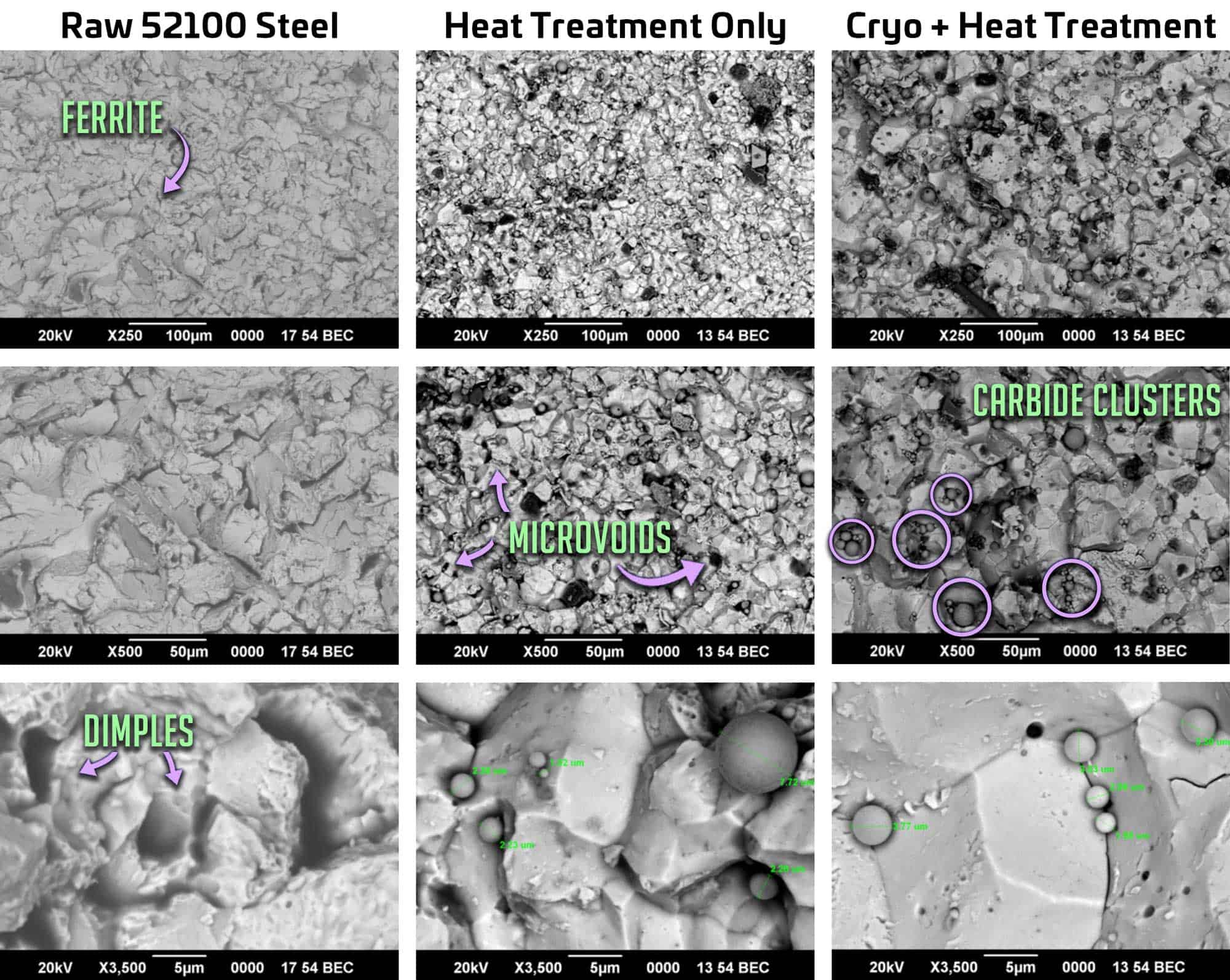 300 Below supports industry leading research and recognizes prominent research fellows helping to advance the cryogenic processing industry.
In the above research example, 52100 steel commonly used in ball bearing applications (the AISI equivalent of En31 steel) is subjected to high resolution microscopy to analyze differences between raw metal, metal with heat treatment, and separately, cryogenic processing of metal followed by heat treatment.  In these three phases it is possible to analyze the unique metallurgical variations between metal phase changes.
PLEASE NOTE – If you have been exposed to COVID-19, please do not send in packages to our facility at this time and instead postpone your shipments until a medical provider determines you are no longer contagious.
How does cryogenic processing improve hardness?
Hardness is improved in metals subjected to a cryogenic treatment process when retained austenite is eliminated from the molecular structure and compared to a conventionally heat treated metal workpiece.
How does cryogenic processing improve toughness?
Low temperature conditioning of martensite is responsible for increasing the toughness of metal parts when compared to a conventionally heat treated metal workpiece.  A deep cryogenically treated component shows far higher toughness than conventionally heat treated material, or the raw metal material.
D. Senthilkumar (2018): Influence of deep cryogenic treatment on hardness and toughness of En31 steel, Advances in Materials and Processing Technologies, DOI:10.1080/2374068X.2018.1530426 – CITED WITH IMAGES FOLLOWING PERMISSION FROM THE AUTHOR.
Dr. D. Senthilkumar, Professor/Mechanical Eng., P.A. College of Engineering and Technology, Coimbatore, Tamilnadu, India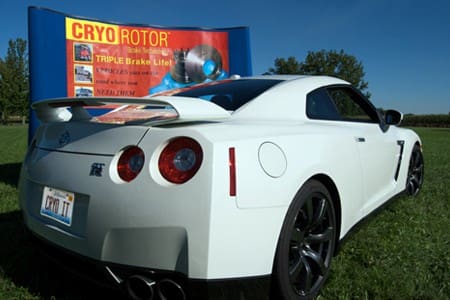 Brake Rotors
Longer life with cryogenically treated brake rotors. Our $300 service has saved $12,000 in maintenance expenses on this Nissan GT-R. Fleet vehicles save millions.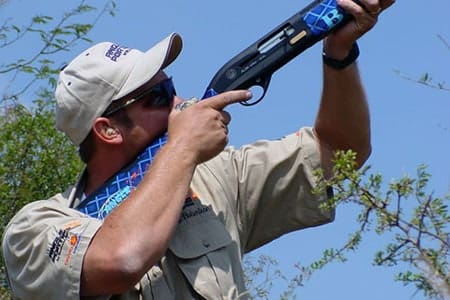 Shooting
Up to 50% Higher Accuracy, Easier Cleaning, Longer Barrel Life. Unconditional Money Back Guarantee.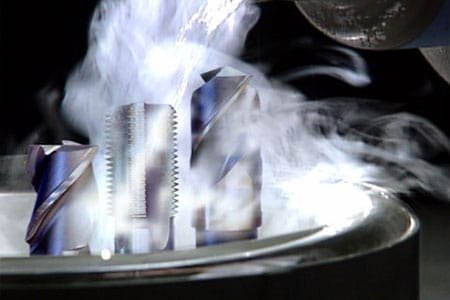 Tooling
Increased profitability, reduced downtime. Lower tool expenses up to 50%. Our cryogenic process makes high-speed steel and carbide tooling last longer.
300 Below, Inc. / CryoTech is a Green Conservation Company. We save resources and reduce expenses for our clients. 300 Below is the founder of the commercial cryogenic processing industry. We have been in business continuously since 1966, constantly evolving from our origin in Detroit, Michigan. We maintain cryo treatment facilities in Central Illinois because of its location in the middle of the United States, thus giving us easy access to ship to companies on either of the Pacific or Atlantic coasts.
Since our inception, 300 Below has processed millions of pounds of steel and components for thousands of companies around the globe. 300 Below is responsible for establishing over one hundred operations in multiple countries, all using 300 Below's proprietary cryogenic processing equipment, which we call cryo-processors.
Even the research upon which our industry was founded, performed by Dr. Randall Barron of Louisiana Tech University, was funded by 300 Below / CryoTech.
Longer tool life. We cryogenically treat tooling and knives, saws and endmills, reamers or broaches as well as drills and dies for stress relief and stabilization for numerous major tooling and die companies, saving resources and millions of dollars in tooling expenses for industries worldwide. Our gun and rifle business has helped break world records in firearm accuracy, and our cryogenic shotgun barrel process known as Cryo Barrel is credited with numerous 600 round perfect accuracy target scores. Auto racing sees higher horsepower less breakage and significantly longer cryogenic engine, cryogenic transmission and cryogenic brake rotor life. Wow, what a cool process! And the savings keep coming……..
With our cryo treatment process, we reduce waste and increase profits for our clients, with nearly zero effort on their part! Here's what happens: Metal-based objects are introduced to a dry deep freezing process using flashed Liquid Nitrogen (LN2), which is measured and injected by a proprietary computer-controlled processing system. This process then takes an average of 72 hours to modify the molecular structures of these objects before they are brought back to room temperature, or further enhanced through heat tempering in one of our ovens, and then shipped back to our clients. We call this process cryogenic tempering, and our clients in at least seven different industries swear by the results.
Our process is no risk, all reward for you. Well over 300,000 invoices later, we have thousands of satisfied customers, and every cryo treatment transaction is backed by an unconditional 100% money-back guarantee.
In short, deep cryogenic processing works. Bottom line? We have saved over a million dollars per year in materials and expenses for numerous organizations. We can help you reduce your expenses and save resources. It's easy — read on.
Firearms and guns, rifles and shotguns, tooling and pumps, fleet brake rotors and knives, racing engines and transmissions … they all respond to deep cryogenic processing and cryogenic tempering. Many materials like centrifugal pumps and hydraulic pumps respond well, too! The benefits range anywhere from 50% to 600% longer life after stress relief and thermal stabilization. Guns such as sniper rifles and tactical rifles shoot with as much as 50% greater accuracy, and 200% longer life.
Shotguns have reduced pattern shift from shot-heating by as much as 11″ after deep cryogenic processing. Cryo Barrel and Cryo Accurizing were pioneered by CryoTech / 300 Below Inc. Barrels shoot straighter, last longer, and are easier to clean. Our efforts are so unique that a patent was issued for our process. Cryogenic brake rotors last 350% longer, too!
As our name implies, we improve the properties of metal components by freezing them at minus 300 degrees Fahrenheit. Computer technology allows us to regulate temperatures to 1/10th of a degree. Items such as .243, AR-10 gun barrels, M-110 rifles, AR-15 or M16, .308 and .223 and 12 gauge shotguns used for skeet, trap and sporting clays all benefit from stress relief, stabilization, and potentially carbide precipitation and martensitic phase transformation, depending upon the alloying elements present in the structure. Heat treatable tool steels like A2 and D2, S7 and M42 benefit, as well as 440C and Gray Iron. Wow, what a cool process!
Influence of cryogenic treatment on the dimensional stability of Gear Steel-En 353
Case carburized steel (En 353) when cryogenically treated showed tremendous improvement in wear resistance. This is due to the microstructural changes such as conversion of retained austenite to martensite and precipitation of fine alloying carbides.